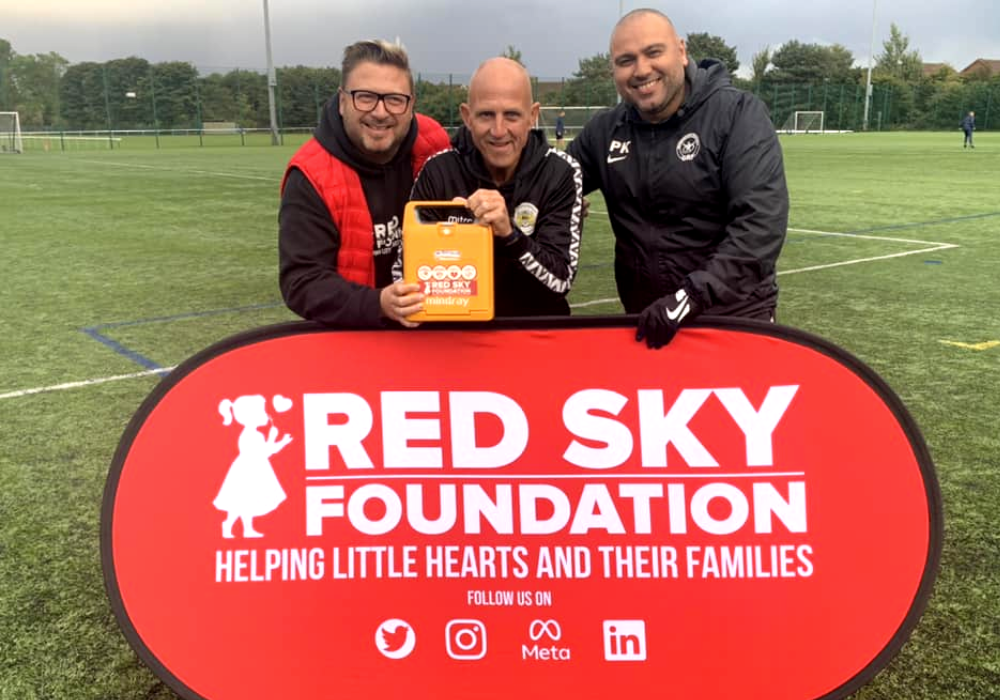 Campaign donates 100 defibrillators to grassroots football clubs
The Grassroots Defibrillator Programme supported by Red Sky Foundation will provide 100 grassroots football locations with a defibrillator.
Founders of Red Sky Foundation, Sergio and Emma Petrucci, decided to partner with Team Grassroots following a Northeast fundraiser that raised over £120,000.
The couple began the Red Sky Foundation to fundraise and raise awareness for the Children's Heart Unit at Newcastle's Freeman Hospital after their daughter underwent life-saving surgery in 2015.
An experience and understanding that prompted the couple to start the programme, as they understood the gravity of extra defibrillators being accessible at grassroots level football.
Sergio Petrucci, Co-founder of Red Sky Foundation explains:
"Our daughter was given a second chance receiving specialist cardiac care when she needed it most but now, she is 100 percent fit and healthy. It's time for us to focus on the other children who are born with, or who might develop a heart condition. Grassroots football is a perfect way for us to help kickstart the scheme. Sudden cardiac arrest can happen to anyone of any age and what we're doing at this level of football is to help protect children as well as adults in the event of a medical emergency by having a defibrillator as near as possible.
"Using early CPR and defibrillation on a person in sudden cardiac arrest can increase their chances of survival from seven percent to over 75 percent so it's vital that every club possible in the UK has access to a defibrillator via the Grassroots Defibrillator Programme."
To help with the rollout of the campaign the Red Sky Foundation sought help from Team Grassroots, as they are the UK's largest independent grassroots football organisation.
Paul Kirton, Founder of Team Grassroots, the organisation helping to deliver the campaign said:
"It's great to see our Grassroots Defibrillator Programme getting such high-profile attention – and we hope to keep the momentum going with ambitions to get as many of the units as possible out into lots of sporting locations. Red Sky Foundation's incredibly generous donation will help clubs play confidently and give them the peace of mind knowing that life-saving equipment can be made available, should it be required.
"The NHS and UK Government's defibrillator fund has overlooked grassroots football clubs, which are not eligible for funding, so the demand for the equipment is huge. Previously we have received over 5,000 applications for 100 defibrillators, confirming the demand and lack of affordability amongst grassroots clubs who continue to struggle to keep clubs afloat."
The partnership between Red Sky Foundation and Team Grassroots is currently underway and will see that 100 grassroots football clubs will receive a defibrillator and CPR training course across the UK.
In doing so, the program will not only educate thousands of people of all ages on the benefits of CPR and early defibrillation but save lives.
Find out more about the Red Sky Foundation here.